2013 Nahant 30K Road Race



Congratulations to all of the 2013 Nahant 30K Road Race finishers on running the "Toughest Race on the North Shore"! You have good reason to be proud! Final results are on coolrunning.com. Stellar photos (free for download) are available with tremendous thanks to Krissy Koslosky. Nahant photographer Ellen Goldberg has also generously made even more incredible photos available to runners at her website.
Important Parking Information:
Due to construction on Nahant Road, parking for the Nahant Road Race will be available only at the main parking lot of North Shore Community College at 300 Broad St. in nearby Lynn. A bag check will be available at the registration area. Please allow for extra time to park and walk the 1/3 of a mile to registration/number pickup/bag check at the Ward Bath House; and the 1/4 mile from the Bath House to the starting area.
Number Pickup:
Numbers will be available for pickup on Saturday, September 28th between 9:30AM and 5:30PM at New England Running Company in Beverly; or on location the morning of the race.

Race Information:
Since 2006, the Nahant 30K Road Race has been an ideal race for runners training for a fall marathon. The challenging course follows rural streets along the rolling hills of the Nahant coastline with spectacular ocean views at every mile. This year, it has been designated by the USA Track and Field New England as part of the USATF-NE Grand Prix Series.
Date and Location:
Sunday, September 29th, 2013
Start/Finish: Nahant Beach Reservation, Ward Bath House, Nahant Causeway, Nahant, MA
Parking: North Shore Community College off Washington St. in Lynn, MA
Start Time: 8:30AM
Sunshine Start 7:30AM
Please note: The Sunshine Start is intended for runners averaging an 11:00 minute per mile pace or slower. Services (water stops, course marshals) for participants running faster than 11 min/mile may not be available. Sunshine Start participants are not eligible for any prizes.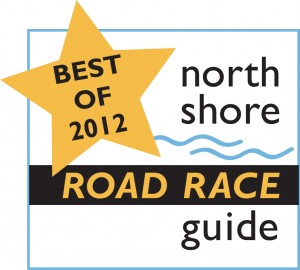 Course: Voted "Toughest Race" in 2012 by the North Shore Road Race Guide, the Nahant 30K is a hilly and scenic course through the quiet streets of Nahant, wheel measured and certified by the USATF (sanction number: 11-02-415). Water stops will be available every 3 miles or less. Port-A-John stops every 5 miles or less. Per USATF guidelines, strollers and headphones are not permitted.
Click here for Course Map
(Please note that this is a 2012 map and should be used for illustrative purposes only. Due to ongoing construction on the Nahant Causeway, the starting line has been moved slightly further down the causeway, so mile markers and some water stops will not be exactly in the same locations as they appear on this map.)
Race Fees: $40 for entries received before September 2nd
$45 for entries received before September 25th (race day registration only after the 25th)
$50 on race day



Click here for mail in Registration Form
Amenities and Awards:
All finishers will receive a finishers medal
The first 300 entrants will receive a technical t-shirt
Awards to overall male and female finishers as well as the top 3 male and female finishers in each of the following age divisions: Open (20-39), Masters (40-49), Veterans (50-59), Seniors (60-69), and Super Seniors (70+)
Awards to top Nahant male and female finishers
Free race photos available online after the race to download
Plenty of post-race refreshments!
$200 cash award to the first USATF male and female finisher (must be registered with USATF)
Cash awards to USATF registered teams (only USATF registered teams are eligible for cash prizes – see details on registering as a USATF team below). Prize structure as follows:
| | | | |
| --- | --- | --- | --- |
| | 1st Place Team | 2nd Place Team | 3rd Place Team |
| Men 0-39 | $300 | $200 | $100 |
| Women 0-39 | $300 | $200 | $100 |
| Men 40-49 | $200 | $150 | $75 |
| Women 40-49 | $200 | $150 | $75 |
| Men 50-59 | $150 | $100 | $75 |
| Women 50-59 | $150 | $100 | $75 |
| Men 60-69 | $150 | $100 | $75 |
| Women 60-69 | $150 | $100 | $75 |
| Men 70+ | $150 | $100 | $75 |
| Women 70+ | $150 | $100 | $75 |
 USATF Team Registration:
Running clubs registering at least 5 USATF members are eligible for a $2 registration discount. In order to register as a team and receive the discount, please fill in each runner's information using the attached excel template and send completed form along a check payable to "Nahant 30K Road Race" covering a registration fee of $38 for each runner ($38 x number of runners) if postmarked by September 2nd ($43 thereafter) to:
Nahant 30K – USATF Team Registration
5 Phillips Ave.
Georgetown, MA 01833
Please note: Discounted USATF team registrations must be received no later than September 25th.
Download the USATF Team Registration Template
Prior Results:
2012 Results
2011 Results
2010 Results
2009 Results
2008 Results
2007 Results
2006 Results
Course records:
Male – Dan Vassallo, Peabody, MA, 1:42:23, 2011
Female – Emily Kroshus, Boston, MA, 2:03:10, 2011
Nahant Male – Scott Jason,  2:08:57, 2011
Nahant Female – Aviva Pruzinsky, 2:17:41, 2011
Race director: Gary Freedman, tide2992@yahoo.com
Sponsors: